[HS]Merci Shor

[/HS]
2011 – Top 10 de mes chansons de l'année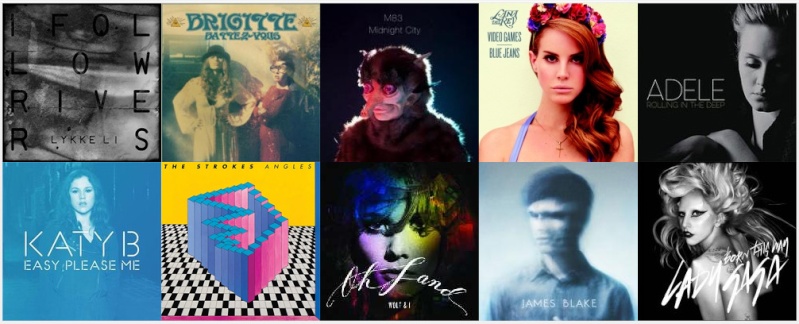 Lykke Li – I Follow Rivers | Lykke Li – I Follow Rivers (The Magician Remix)
Brigitte – Battez-vous
M83 – Midnight City
Lana Del Rey – Video Games
Adele – Rolling in the Deep
Katy B – Easy Please Me
The Strokes – Machu Picchu
Oh land – Wolf & I
James Blake – The Wilhelm Scream
Lady Gaga – Born this way
Allez, un top20 parce que c'est trop bon !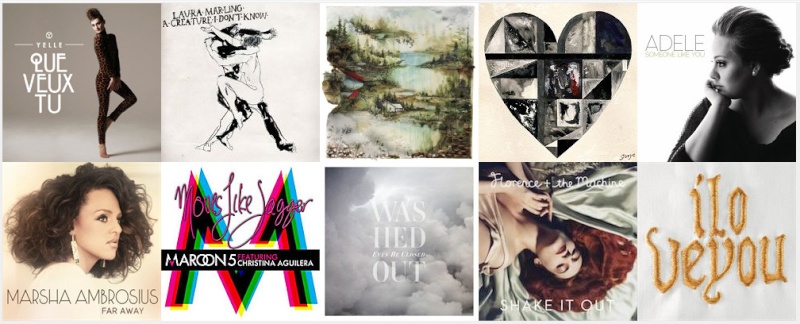 Yelle – Que veux-tu ?
Laura Marling – The Beast
Bon Iver – Holocene
Gotye ft. Kimbra – Somebody that I used to Know
Adele – Someone like You (Live Brit Awards) | Someone Like You (Album version)
Marsha Ambrosius – Far Away
Maroon 5 ft. Christina Aguilera – Moves like Jagger
Washed Out – Eyes be Closed
Florence + the Machine – Shake it Out
Camille – Tout Dit
Mention spéciale :
Lana Del Rey - Yayo (Sortie en 2009, mais définitivement ma chanson de l'année 2011.)
Et on clique sur TOUS mes liens, hein, parce que je me suis pas cassé le cul pour rien, hein
Lykke Li
a commencé l'année au top de mes tops avec sa version album d'I Follow Rivers, elle finit l'année au top de mes tops avec la version remixée par
The Magician
: définitivement une de mes chansons de l'année ! Cette année,
Adele
confirme mon fanatisme avec Rolling in the Deep et Someone like you. En mode "version live aux Brits" pendant les 6premiers mois et en mode "album version" pendant les 6derniers mois de l'année ! Côté Français, ce sont les 2 groupes
Brigitte
et
Yelle
qui empochent le jackpot avec leurs chansons redoutablement efficaces ! N'oublions pas le retour de
Camille
et cette petite pépite qu'est 'Tout dit'.
Dans la famille "révélation de cette fin d'année et grosse attente pour l'année prochaine|bave|émotion|stanatisme détecté", je demande
Lana Del Rey
, qui m'a rendu fou avec Video Games, mais aussi avec cette pépite de 2009 que personne n'a écouté avant cette fin d'année : Yayo ! A noter que je ne parle pas de Born To Die qui sortira en janvier2012. Pour info, j'avais refusé de mettre "Rolling in the Deep" dans mon top de 2010 parce qu'il ne sortait qu'en janvier 2011. #justsayin'
Dans la catégorie « découvertes de l'année », je ne pouvais pas ne pas mentionner
James Blake
et ce morceau de ouf qu'est The Wilhelm Scream (connu en 2010, mais exploité en 2011), tout comme
Oh Land
dont le morceau Wolf and I me transporte ! Notons également
Katy B
et son « Easy please me »,
M83
et sa bombe « Midnight City »,
Washed out
et sa planante « Eyes be closed » ou
Masha Ambrosius
et son Far Away. Les Belges ne sont pas en reste, vu qu'après la présence de The Magician un peu plus haut, je ne peux que valider le tube de
Gotye
« Somebody that I used to know ».
Dans la catégorie « confirmation », j'appelle
Lady Gaga
, oui, et son hymne « Born this way » (Hair, Heavy metal lover, SheiBe me crient de les choisir, mais BTW est tout bêtement trop efficace pour le faire passer au second plan), mais aussi
Bon Iver
qui, après l'épique Skinny Love nous est revenu avec un Holocene redoutable !
Florence and the Machine
confirme avec Shake it Out, et
Laura Marling
fait très fort avec l'étonnant The Beast ! (Désolé, pas de lien studio, et je ne sais même pas si ce live vaut qqch).
Dans la catégorie « surprise », on trouve les
The Strokes
avec Machu Picchu… Je ne m'y attendais pas, et je suis pas fan de leur musique habituellement, mais Machu Picchu est… parfaite. Elfus, tiens, toi qui nommes tes cités Macchu Pichu, c'est bien en référence à ce tube ?
Et enfin dans la catégorie « Bouh c'est honteux, déjà qu'avec Adele et Gaga, tu t'enfonçais », je ne peux me résoudre à ne pas mentionner les
Maroon5
et leur Moves Like Jagger, mon tube de l'été… du printemps et de l'automne, bref, oui : j'ai shaké mon booty à tout va sur ce titre.
Mais l'année 2011 ne se résume pas en 20 chansons : voici les malheureux « Hors Top 20 » :
Spoiler: